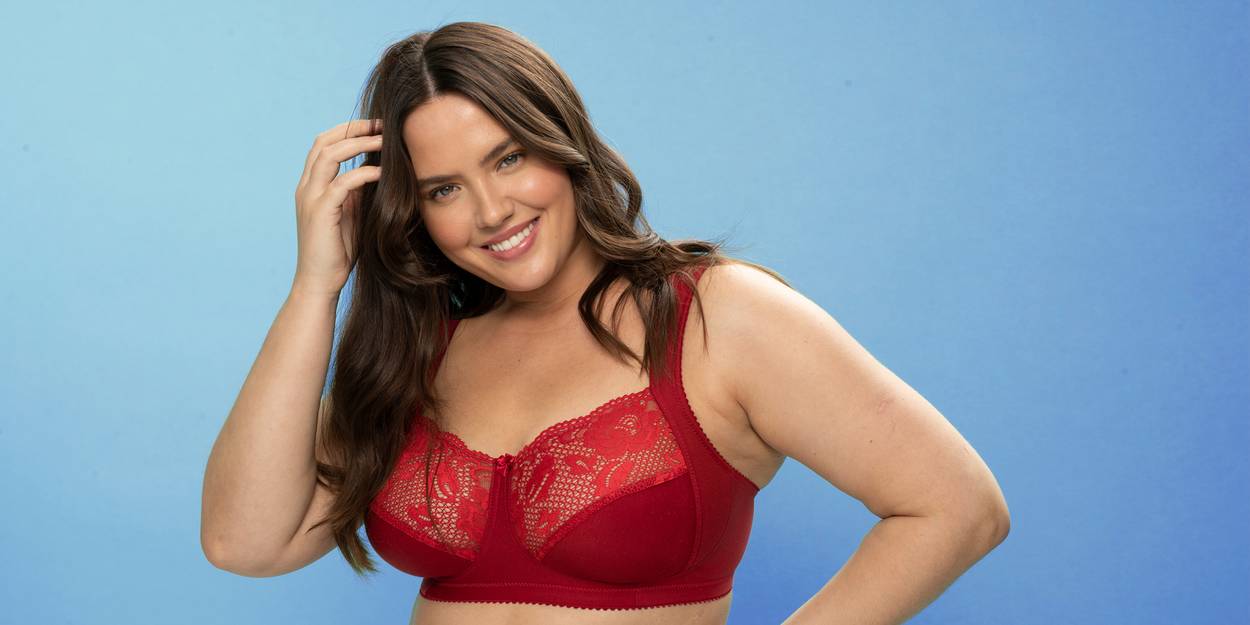 Miss Mary has been a cotton specialist for many years, and a large part of our selection consists of cotton bras. Cotton is a fantastic material and particularly well suited to underwear, but are cotton bras really better than other bras? Here we look at the advantages and disadvantages of cotton.
Cotton is something our customers always ask for. Amongst our Top 5 bestsellers, there are almost always 2-3 cotton bras. It's been that way for many years. There are many advantages of cotton, but there are also situations in which cotton is not the most suitable choice of material.
Cotton is a natural material that comes from the plant kingdom. Of all natural fibres (wool, silk, flax, hemp), cotton is by far the best suited for underwear. The other materials are more difficult to look after or delicate. Inside the cotton fibres themselves, from which the yarn is made, there's a spiral structure that makes the finished cotton very strong and durable, important characteristics for a garment that is used regularly.
A cotton body like LOVELY LACE is cool to wear against the body whilst providing a secure snug feeling.
Cotton feels soft and comfortable to wear directly against the body. You practically never hear of cotton causing someone itchiness. It's perfect for sensitive skin and is therefore a natural choice to use for garments that are worn close to the body, such as underwear.
Why cotton underwear feels cooler
One of biggest advantages of cotton is its breathability. The cellulose in the fibres dissipates warmth from the body, meaning that cotton simply feels cooler than most other materials. In other words, it's perfect for warm days. If you're wearing a T-shirt over a cotton bra, your skin will easily be able to breathe through both garments and you'll feel much cooler than if you were wearing, for example, a polyester blouse over a cotton bra.
How to wash your cotton garments
Unlike many other textile fibres, cotton actually gets stronger when wet than dry. This means that it's perfectly suited to garments that are washed regularly, like underwear. It can be washed many times without the quality deteriorating. But just like with every other garment, it's important to follow the manufacturer's washing advice.
Although the cotton fibres themselves can withstand being washed at high temperatures, it's important to remember that not every part of a bra is made of pure cotton. It also contains other fibres that need to be handled more carefully. The different parts of a bra (it's not uncommon for a bra to be comprised of 25-35 parts) will respond differently to being washed. If your underwired bra says hand wash, you should always wash it by hand. Even a pair of pure cotton panties contains elastic made from synthetic fibres for example.
During quality control and product development at Miss Mary, we wash all our materials and finished garments to see which types of washes they can withstand to ensure that you can enjoy your garment for as long as possible.
What type of bra is cotton most and least suited to?
Cotton absorbs moisture and will stay dry as long as the moisture evaporates more quickly than it's absorbed. For that reason, it's not the best material for sports or if you sweat a lot. In those cases, it's better to use a bra made from technical synthetic fibres like our Exhale sports bra in Keep Fresh material.
COTTON STAR bra is made from cotton lace for a more romantic feel. The under cups are lined with cotton so you can enjoy the full benefit of the material's breathability.
Another type of bra that's not made from cotton is a T-shirt bra with seamless cups. This is because the cotton fibres don't hold their shape well enough and are not sufficiently stretchable. That's why there are no moulded cups in 100% cotton. Cups that are 100% cotton are always made from multiple pieces sewn together. The advantage of cups with seams is that they give the manufacturer more control over their shape than moulded cups. Cups with seams can also be made in larger cup sizes than moulded cups.
COTTON DOTS non-wired bra with 100% cotton cups. The material is stiff and provides excellent lift even in larger sizes.
The softness of cotton makes it very comfortable. As an everyday bra, cotton is almost unbeatable. Admittedly, cotton can sometimes feel a little plain, but add some lace or embroidery and it instantly gives a bra a more beautiful and romantic feel. Cotton bras come in many different designs. In our case, non-wired cotton bras are the most requested style.
As mentioned, cotton's breathability is one of its biggest advantages. To maximise the benefit of this characteristic, we've chosen not to pad the cups of our cotton bras. A padded cup prevents you from enjoying the benefits of cotton's wonderful breathability and airy feel. When we pad cotton cups, we always do so with cotton padding to allow them to breathe.
COTTON FRESH has smooth 100% cotton cups in a sporty combination with a mesh-like cotton-Lycra mix.
Why are bras not made of 100% cotton?
You might have noticed that it's hard to find a bra that's made of 100% cotton. When determining the composition of a garment, all the different textiles used to make it are counted, including padding, embroidery, lace, shoulder straps, underwire, etc.
Compared to synthetic fibres, cotton is not very stretchable or elastic (a material's ability to return to its original shape after being stretched). That's why pure cotton isn't used for all the parts of a bra. On our cotton bras, the cups are usually made from 100% cotton, but the parts that require elasticity, for example the band, need to contain a certain percentage of synthetic fibres. The most suitable fibre in this case is elastane (also known by the brand names Lycra and Spandex). This way you can keep your bra for a long time, and it will still fit like it did when it was new.
The bra with the highest proportion of cotton in our collection is Broderie Anglais, which contains 83% cotton. The cups are 100% cotton, but the band contains elastane. The padding we use in our popular comfort shoulder straps is also not made from cotton.
There are, of course, different qualities of cotton. At Miss Mary we only use high-quality materials in all our garments, including cotton. We use cotton of different thicknesses depending on the type of garment it's being used for. The cotton we use for our panty girdles, for example, is stronger than we use on normal panties, so it's extra secure and holds in the tummy.
The cotton used in our panty girdles is very stable and secure, helping to hold in and emphasise curves whilst still being comfortable. Pictured are Lovely Lace bra and Lovely Lace panty girdle.
All the materials we use at Miss Mary are certified to Standard 100 by Oeko-Tex, a global independent test institute that ensures materials don't contain any substances that would be harmful to wear directly against the skin. This is something we require of all our material suppliers.
Buy quality
The biggest disadvantage of cotton is that it requires a lot of water to cultivate (this includes organic cotton). However, because cotton is so durable, cotton garments last for many years, which reduces consumption and is in turn better for the environment. By buying high-quality garments that last longer, you don't need to buy as many items of clothing. Avoid fast fashion. Your Miss Mary garment is not something just to be worn a handful of times and thrown. You'll be able to enjoy it for many years to come.