Why are bras not made of 100% cotton?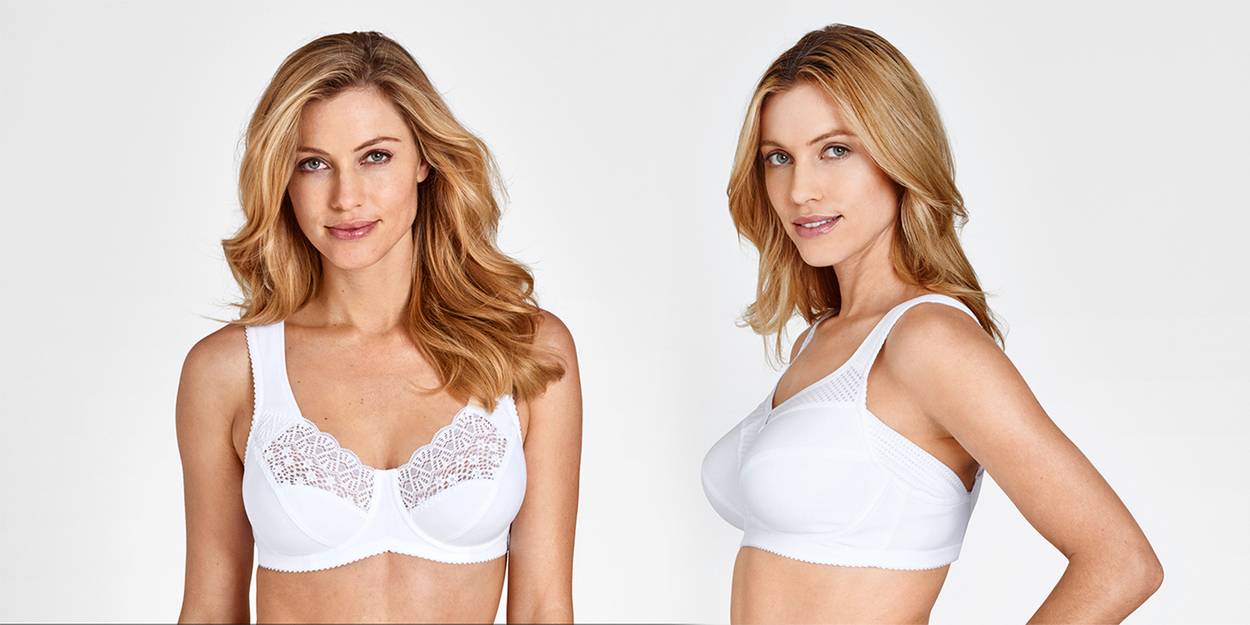 Cotton is a popular natural material that is durable, breathable and feels oh so comfortable against the skin. But why aren't our cotton bras made of 100% cotton?
Panties are often made of three pattern parts – front, back and crutch lining. A bra consists of many more parts, about 30-40. To be able to write that a garment contains 100% cotton, all parts of the garment (except accessories such as buckles and buttons) must be 100% cotton.
The bra with the highest proportion of cotton in our range is BRODERIE ANGLAIS with 83% cotton (see picture above). This means that most of the parts are made of 100% cotton but that some are made of other materials or a cotton mix. On this particular bra model, the cups are made of a material that is 100% cotton, but the padded shoulder straps contain padding that is not cotton. The shoulder straps are covered with 100% cotton so you feel the cotton directly against your skin. The band is made of cotton but has a small proportion of elastane to retain its elasticity. All this results in the parts of the bra together having an average of 83% cotton even if most of it is made of our popular 100% cotton fabric.
Why does a bra contain elastane?
The bra band needs to be elastic to fit well and feel comfortable. If the band had been made of elastic that was 100% cotton it would quickly have become stretched and lost its elasticity. Elastic fibres are mixed with cotton fibres to make the material shape-resistant and retain its elasticity. Sometimes, you have socks, tights or panties that used to fit tightly when you bought them but after a while they become baggy, like jogging bottoms with baggy 'knees'. That's how they become without elastane, and that's why it is found in almost all our undergarments that fit tightly against the body.
"It's important for us that our customers can trust that a Miss Mary garment retains its high quality."
The bestselling cotton bra LOVELY LACE has cups and front in 100% cotton, but overall the bra is 57% cotton.
It's important for us that our customers can trust that a Miss Mary garment retains its high quality even after you have worn it for a long time. If you are unsure which bra will suit you and your needs, or which size you should wear, contact our Customer Services. They are experts at helping women over the phone, via email or on chat to find the perfect bra.