Choosing the right bra after breast surgery

Five tips to think about when it's time to start wearing 'normal' bras following a breast enlargement or reduction.
If you've had breast surgery, whether it's an enlargement or reduction, you'll initially need to wear a special post-op compression bra following the operation. We don't make this type of bra at Miss Mary; there are many different types depending on the operation, and your surgeon will recommend the one that is right for you. It'll be quite a while before you can wear a normal bra again. Your breasts will be swollen for a long time after the operation, and they'll change size as the swelling goes down.
It'll be quite a while before you can wear a normal bra again.
If you've had a breast enlargement, you'll have completely different demands of your bra than you did before. In the picture is the Broderie Anglais bra in soft cotton, offering perfect comfort for generous curves with its wide padded shoulder straps.
When it's finally time to start wearing normal bras again, there are a few things worth having in mind when choosing your new bra.
Don't buy too big a collection
When you no longer need to wear your practical but boring post-op bra, it can be tempting to rush out and buy yourself lots of beautiful new bras. But don't waste your money filling up your underwear drawer with new bras. Your bust will continue to change size for quite a long time to come, which means your beautiful, newly bought bras will soon be too big. Instead, buy 1-2 new bras that you can switch between and buy new ones later.
Find your new size
The first thing you need to do is figure out what your new bra size is. You can do this easily here by following our simple step-by-step guide. All you need is a measuring tape.
"The first thing you need to do is figure out your new bra size."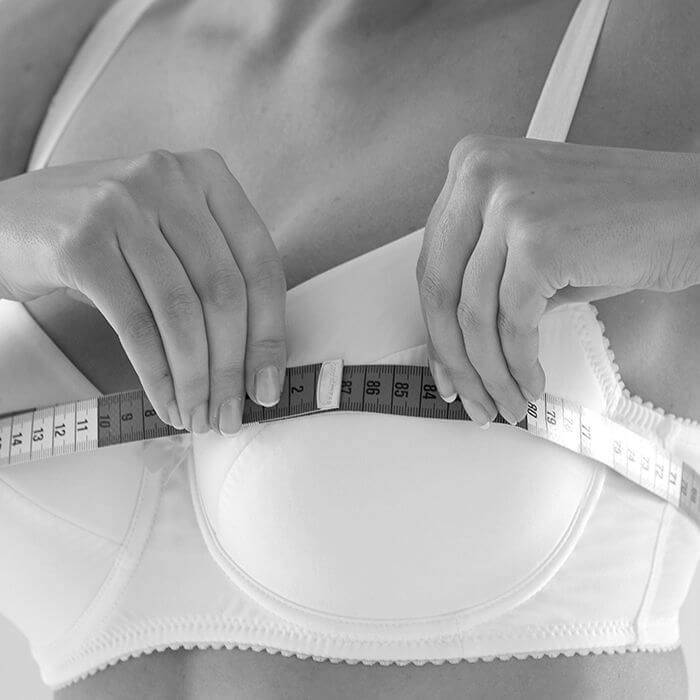 Find your new bra size after the operation by following our sizing chart here.
If you've had a breast enlargement that means you've gone up several cup sizes, it can be worth choosing a bra from a brand that is used to making garments for large busts and has them in its collection as standard. The larger size of your breasts will put greater demands on your new bra than your previously smaller size did. Avoid dainty bralettes that don't provide any lift or support.
The Queen bra is an example of a non-wired bra that provides good support and lift to the bust.
Some common indicators of bras that are suitable for larger and heavier busts:
• It has a wide back. It's the band around the body rather than the cups that above all holds the bust in place.
• A stiff (or somewhat stiff) cup provides better support than one with stretch throughout.
• Wider shoulder straps offload the shoulders. Available with or without padding.
• An underwire lifts, supports and shapes the bust. N.B.! Wait for your surgeon to give you the all clear before starting to wear an underwired bra.
A wide back, such as in the picture above, provides better support to the bust than a 'regular' back. Pictured is the bra Keep Fresh.
If you've had a mastectomy, with one or both breasts removed, there are special prosthesis bras if you want to use a separate breast prosthesis. Your prosthesis is put in a special pocket sewn into the inside of the bra. This type of bra is also comfortable to wear for those who haven't had a mastectomy as most prosthesis bras are extra soft and comfortable, have cups that are cut higher to enclose the entirety of the breast (and conceal any prostheses) and don't have seams that chafe. We have two non-wired prosthesis bras in our collection, both with extra soft cotton pockets.
For those who've had a mastectomy and choose to use a loose prosthesis rather than having surgery to put an implant in, there's the comfortable prosthesis bra LIV. LIV is non-wired, made from extra soft material and has an internal cotton pocket with space for a breast prosthesis.
Choose a non-wired bra
Although an underwired bra provides better support and lift than a non-wired bra, you shouldn't wear an underwired bra during the healing process. Listen carefully to your surgeon's advice on how long this applies to you. It's individual and depends on the type of operation you've had. If the incision is under the breast, an underwire will press directly against the wound and cause irritation, complicate the healing process and result in more visible scars. There are many different types of non-wired bra to choose from for those who were previously only used to wearing underwired bras.
"Wait until your surgeon has given you the all clear before wearing an underwired bra."
It's recommended not to wear an underwired bra following an operation until the scarring is completely healed. Pictured is non-wired Curly with silky smooth lining that is comfortable against the body.
Choose a cup with stretch
If you buy a bra with good elastic material in the cups, it'll offer greater sizing flexibility and adapt to your bust as the swelling reduces. Choose a soft material that feels comfortable and supple against the skin, for example cotton. We specialise in cotton, so you'll find many cotton bras at Miss Mary.
Non-wired Keep Fresh with elastic cups that offer sizing flexibility. The cups are seamless, which is perfect for those with sensitive nipples.
Stiff nipples after an operation
The nipples are often stiff for a long time after an operation. Use padded cups or nipple covers if you don't like your nipples being visible through your bra.
Nipple covers are a lifesaver if you want to avoid your nipples being visible through your bra but don't want to wear a padded bra. Nipple covers also provide protection for those with sensitive nipples.
It's also not uncommon to experience reduced or increased sensitivity in the nipples after an operation. Choose a bra with soft material that feels comfortable and avoid seams directly over the cups if they cause irritation. Try for yourself and find out.
The COOLING T-shirt bra in a comfortable elastic material is perfect while you can't wear an underwired bra.
Remember that your body is unique, and you have to decide what feels right and comfortable for you. Always follow advice from your surgeon. If you have any questions about which bras in our collection fit your needs, contact our customer service team, who'll be more than happy to help you. No question is too obvious or simple. Only women work in our customer service to ensure our customers feel comfortable and confident asking intimate questions.