She helps women find the right bra size without meeting them in person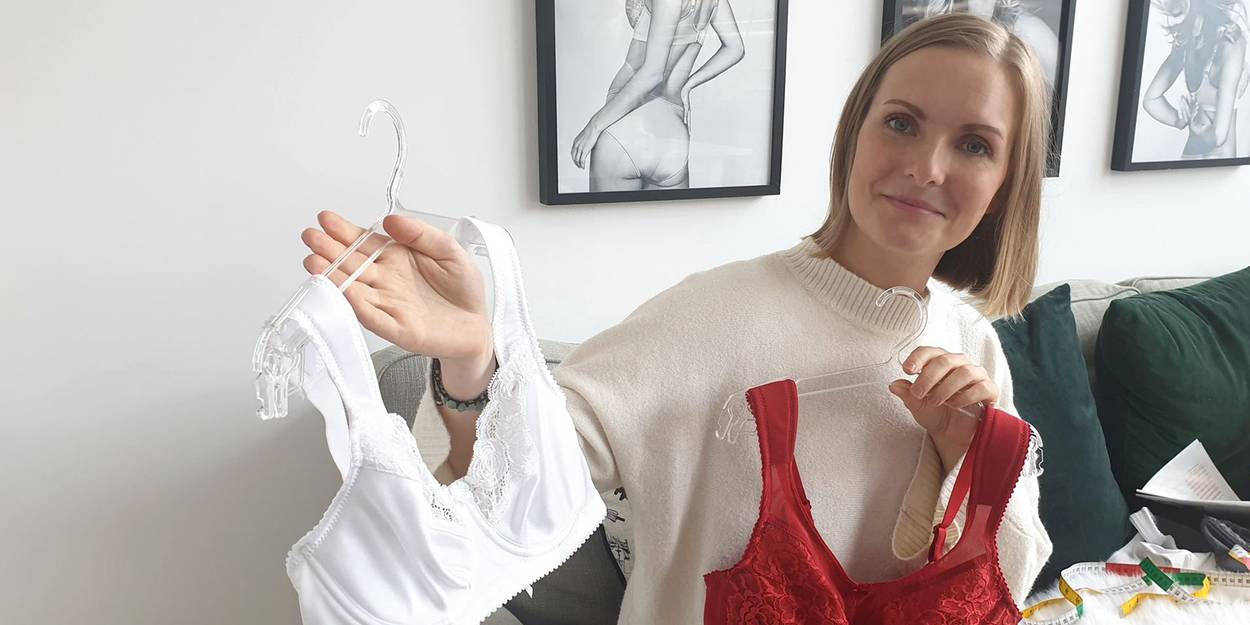 Miss Mary of Sweden's customer service advises women all over the world every day on different bra problems. We asked our customer service manager Ida about her top tips on how to work out which size women should wear without meeting them and how they work to provide the best possible experience to the customer.
Ida has worked as customer care manager at Miss Mary of Sweden since 2018 and works from our head office in Borås together with her colleagues. We popped over to our customer service department to ask her a few questions. The wall is painted with blackboard paint and, among the various drawings, there is a quote that captures the way our customer service operates "People don't care about what you know until they know you care."
If a woman calls who is a new customer or just unsure about which size she should buy, how do you usually guide her through the process to find a good, well-fitting bra?
First, we ask her what her current bra wardrobe looks like. What is the fit like, does she prefer underwired or non-wired, does she experience chafing or shoulder pain, how tight or loose is the bra band, when did she last buy a bra, what brands does she usually wear, has she worn Miss Mary bras before, etc. There is a big difference between the brands you buy in cheap chain stores and those from specialised bra makers. We ask to find out whether her current size fits well or not. Then we also ask her about her lifestyle and needs, what her bust looks like, if she needs extra support or lift. After that, we can start working on finding out what size she is and then finally which model suits her. All of these things are relevant and you have to consider them all together to find the best individual solution for a customer.
Ida is head of customer care at Miss Mary of Sweden and is in contact with customers from all over the world on a daily basis.
When you buy a bra in a shop, you can quickly test which size fits. It can be trickier when buying online and you have to rely on size charts. How does customer service help with that?
After going through her bra needs and wardrobe, we ask her to measure her circumference under the bust, i.e. the band size. We always start out from that. Getting the band size right is vital for the cup to fit. If the tape measure is too loose when measuring the band size, the cup size will be too small. We therefore always ask the customer to measure with the measuring tape really tight. We then ask her to measure across the bust and then we look at the size chart. We ask her what cup size she normally wears. If the measure indicates cup size B but she almost always wears cup size D, we know that she has measured too loosely. We then usually take one or a few cm off the band size, and we usually end up right.
A bra will be tight when you get it home, but it will stretch. You should therefore always wear the bra on the outermost position of the hook and eye fastening and then gradually move it inwards as needed. A bra is like a pair of shoes: you have to wear it in. Think about what jeans are like when you buy them or put them on after a wash: they are usually tight, but after a day's wear they have already adapted to the body. It's just the same with a bra.
What is the most common mistake customers make when they measure?
They simply don't measure the circumference under the bust tightly enough. Then, as we said, you end up with the wrong cup size. It is very common for women to go around with a cup size that is too small, that forms double breasts, and it something you often see, especially in older women with big busts. When they started wearing a bra, there wasn't anything bigger than a D cup available, and they had to wear it even if it was really too small, and they have continued to do so. Nowadays, much bigger cups are made, for example we have some models that go up to both H and I cups. If you look in our size chart and get a size that is very different from the one you usually wear, I recommend that you contact us and we will help you.
There are many reasons the size can differ, not just because you happen to measure incorrectly. It can differ between brands and if you have to convert between international sizes. You could also have a very old bra that has stretched and therefore doesn't correspond to the size on the garment label.
A bra is elastic and a living material, so it will stretch with time. Here, which bra model you choose is also very important. If you are deciding between two cup sizes and want a model with elastic lace in the cup, such as LOVELY LACE, we recommend that you choose the smaller size. Some styles, such as JOY, have slightly padded cups and retain their shape, so it is important not to choose too small a cup as it is then not flexible upwards in size. Our customer service team receives training on our range so they can recommend the right model for the customer's needs. Several of our customer advisors are involved in testing new models that our design department is developing, which means that we have a personal relationship with the garments and the range.
da shows her two personal favourites from the Miss Mary collection – STAY FRESH and DREAMSCAPE
If we recommend a certain size to the customer and she gets it home and it doesn't fit, how do you usually solve that?
If you feel in the least bit unsure of your cup size, we always recommend that you contact us. In cases when the size is not absolutely clear, we usually ask the customer to order two sizes and then contact us again when she gets the garments home. We are as helpful as we possibly can be so the customer will be satisfied. We always want the customer to get the best customer experience possible when she contacts us or shops from Miss Mary of Sweden. We know that once she has found a Miss Mary bra that really fits her perfectly, she will understand our products and fit and be able to navigate her way through our range more easily.
What do you do to make the customer as satisfied as possible with both her garment and her shopping experience?
About 80% of all women wear the wrong size. Our goal at Miss Mary of Sweden is for 100% of all women to wear the right size. We therefore invest a lot in being able to give personal service. We always ask her to contact us, however trivial the question. A high level of customer service is vital and the backbone of Miss Mary. It is super important to us. 'World Class Lingerie' are not just empty words to us: world class includes top quality in everything from design and production, to product and customer care.
In just a few years we have increased the number of staff fivefold at our customer service and extended our opening hours on the phone so that we are now also available in the evening (European time) if you want to call. We strive to have customer service advisors that can speak the customer's language, including Swedish, English, German, French, Dutch, Danish and Norwegian.
It's important that we are available when the customer is and can communicate in a way she is comfortable with. Some women prefer to talk on the phone while others are more comfortable talking via, for example, private messages on Facebook or Instagram. Others prefer to write emails. We also have older customers who write letters. Soon we will also open chat on our website so that customers who visit us can get help right away. We also offer different payment options and always on a 100-day sale-or-return basis so you can try it at home in your own time.
The most supportive styles according to Ida is the underwired Amsterdam underwired bra and the non-wired Queen.
Which are your favorite models to recommend if a woman wants really good support?
AMSTERDAM provides really good support. For women who have previously worn an underwired bra and are used to superb support but want to switch to a non-wired model, I warmly recommend non-wired QUEEN. It provides excellent support and lift and is really comfortable.
Do you have any personal favorites in the range that you use yourself?
Absolutely, I have. My two personal favourites are STAY FRESH, which is a super comfortable T-shirt bra, and DREAMSCAPE in champagne because it is so incredibly beautiful.
What is your best care advice?
Follow the garment's washing instructions label. Don't wash it in a machine if it says handwash. Stretch the underwire bands after washing when the bra is wet. The most common reason the underwire creeps out is that the underwire band has shrunk in the wash. A single bra consists of many different materials which can react differently in the wash, especially if you wash it warmer than is recommended. Using a laundry bag doesn't solve the problem of different parts shrinking differently. Stretch the band and always follow the manufacturer's washing instructions and you can enjoy your bra for a very long time.
Another tip is that the more bras you own, the longer each one lasts. We recommend at least 4-6 bras in your wardrobe and twice as many panties. Here too, underwear works like a pair of shoes, if you wear the same pair every day they quickly wear out. With a little love and care, you can really extend the life of your bra.
What's the best part of your job?
To see that customers come back. We have customers who have shopped with us for over 40 years and it is so incredibly nice to be able to talk to these women who have had a relationship with Miss Mary longer than I have been alive. I just love that. Returning customers and customers who write that we have done a good job are proof that we have succeeded in what we do. We are so grateful that so many customers actually take the time to write down their thoughts and testimonials. I want them to know that at customer service, we really do read every word and all the reviews that are written on our social media and our website.
Is there anything you would like to say to returning and new Miss Mary customers?
We create our garments with love in every stitch, and by choosing to buy a garment you show love for yourself. They cost more than the bras you buy in big chain stores but they are a good investment in yourself. It's the love that you feel.