Why jacquard is perfect for underwear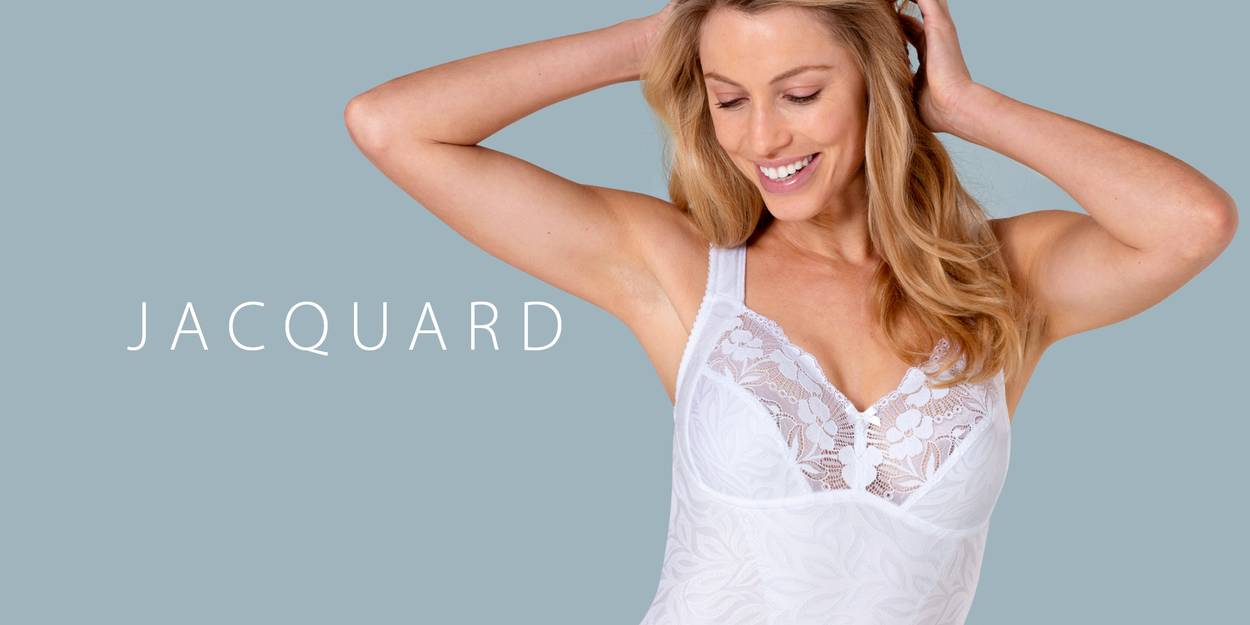 Jacquard adds elegance to any garment and never goes out of fashion. It's just as in vogue now as it was hundreds of years ago, when only the very wealthiest could afford it. Here we take a closer look at what makes this luxurious and iconic material so unique, and why it's always a worthwhile investment for your wardrobe.
Jacquard has been around for hundreds of years, but 200 years ago it revolutionised the entire textile industry. You can find jacquard everywhere, from expensive furniture fabrics and table cloths to antique wall tapestries in castles and mansions, from elegant dresses and coats to knitted garments and the finest underwear. But what exactly is jacquard and how can it have so many different application areas? We make sense of the concepts.
*Jacquard can have many appearances and patterns. Here is jacquard in a single colour with a cool animal print that lends this bra a fresh and slightly sporty look. You can find more information on this bra here.
What is jacquard?
A jacquard fabric is always patterned. What differentiates it from other patterned materials is how the pattern is achieved. With jacquard, patterns are not printed, rather they are part of the weave itself. Put simply, jacquard is a technique that can be used with almost any yarn at all, for example cotton, silk, polyester and acrylic.
We asked Anne Nero, pattern and underwear designer at Miss Mary of Sweden, about what makes Jacquard so special. Anne has 30 years' experience making women's underwear and has worked for some of Scandinavia's leading brands. Anne has been at Miss Mary for 8 years and is behind some of our best-sellers.
"Jacquard is elegant and beautiful and elevates any garment," says Anne, "when you make underwear you often combine at least two materials in a garment, for a bra you use several. There are many techniques you can use if you want to achieve a patterned fabric, they can be printed, stamped or pressed, but few are as elegant as being woven or knitted as with jacquard."
Comparing woven and printed patterns
One of the biggest advantages of jacquard is that it can't disappear or fade, thanks to the pattern being woven into the fabric itself. The patterns on printed fabrics often fade after many washes and frequent use. If colour is printed on a finished product sold by the metre, it often tends to 'crack' if it's an elastic material and is stretched. In addition, the pattern is often only printed on one side. When making jacquard, yarn is used that is already coloured, which means that both the colour and pattern are permanent.
"The pattern on your jacquard garment will never disappear"
Jacquard can be woven into a pattern using different coloured threads or with a single colour to make it 'embossed'. An example is shown in the picture below. This fabric is a knitted jacquard that we use for our Hold Me body.
Jacquard can practically have any design at all. Anything from a simple geometric repeating pattern, such as stripes or checks, to extremely complicated motifs such as the antique damask weaves from the 1400s that are shown in the picture below. The variations are endless; the only limit is the imagination (and the price tag).
"Only the very wealthiest members of society could afford to buy jacquard"
Jacquard can be woven in extremely complex patterns such as in this Italian damask weave from the 1400s. Picture from the book K.F. Koehler's Antiquarium by Alexander Spelz.
How a weaver from lyon revolutionised an entire industry
In the past, damask, brocade and other jacquard weaves were extremely complicated to make. To produce this type of complex pattern, the weaver needed the help of several assistants who lifted individual warp threads by hand according to a careful plan worked out beforehand. In China, enormous looms on two levels were used with assistants sitting on the upper level, lifting and pulling the warp threads to create the pattern. Understandably, these fabrics were very expensive. Only the very wealthiest members of society could afford to buy them.
"A former weaver from Lyon changed the textile industry forever"
Then, at the start of the 1800s, everything changed! The weaver Joseph-Marie Jacquard (1752-1834) from the French city of Lyon, known for his silk weaves, invented an entirely new type of loom, which is now known as the Jacquard loom. His invention allowed for extremely complicated patterns to be woven much more simply and quickly than before, and they didn't require any assistants lifting warp threads.
The Jacquard loom used punch cards, similar to those used as clocking-in cards. Thanks to the punch card technique, the loom could be 'programmed' in advance to weave a certain pattern. This was one of the first examples of coding, long before the first computer. Jacquard's invention quickly had an enormous impact on the textile industry. Just 20 years later there were around 10,000 Jacquard looms in the weaving mills of Lyon alone.
Jacquard for underwear
The original weaving technique with punch cards could also be successfully applied to knitting machines. Knitted jacquard of many different qualities now exist and are used from dresses and cardigans to bras and panties. Even with today's computerised techniques, making jacquard is a time-consuming process. For example, jacquard lace takes longer to knit than regular lace knitting. That's why jacquard is mostly used for more exclusive garments and brands.
"Knitted jacquard shapes itself to the body and is perfect for underwear"
Anne likes to experiment and work with different types of materials and gladly uses jacquard, thanks to its versatility and high quality.
"Jacquard lace is really nice on the cups of a bra or body, or as detailing on panties. It can take lots of different appearances. Jacquard is a very durable overlay. It is high quality, which is really noticeable and pays off because it's incredibly long lasting," says Anne.
Since panties, bras and bodies are the garments in our wardrobes that may be washed most often, they are subject to a lot of wear. However, thanks to the fact that the jacquard pattern doesn't disappear or fade, your garment will stay looking like new for much longer.
Miss Mary's Jacquard & Lace bra, for which we've used an animal-patterned jacquard knit in combination with flower-patterned lace. The jacquard lace is recognisable by the fact that the reverse and front sides look the same, whereas the reverse side of the 'normal' lace looks somewhat different.
Jacquard underwear has an exclusive feel that is unmistakable. The material creates a luxurious experience both to wear and to look at. The unique pattern quality and feel means that it truly stands out and never goes out of style. It is just as true now as it was 200 years ago, but now it's available to everyone, not just the wealthy. You'll get joy from your jacquard garment for many years. It pays to invest in quality, and you can never go wrong with jacquard.