A beginner's guide to buying underwear online – what you need to think about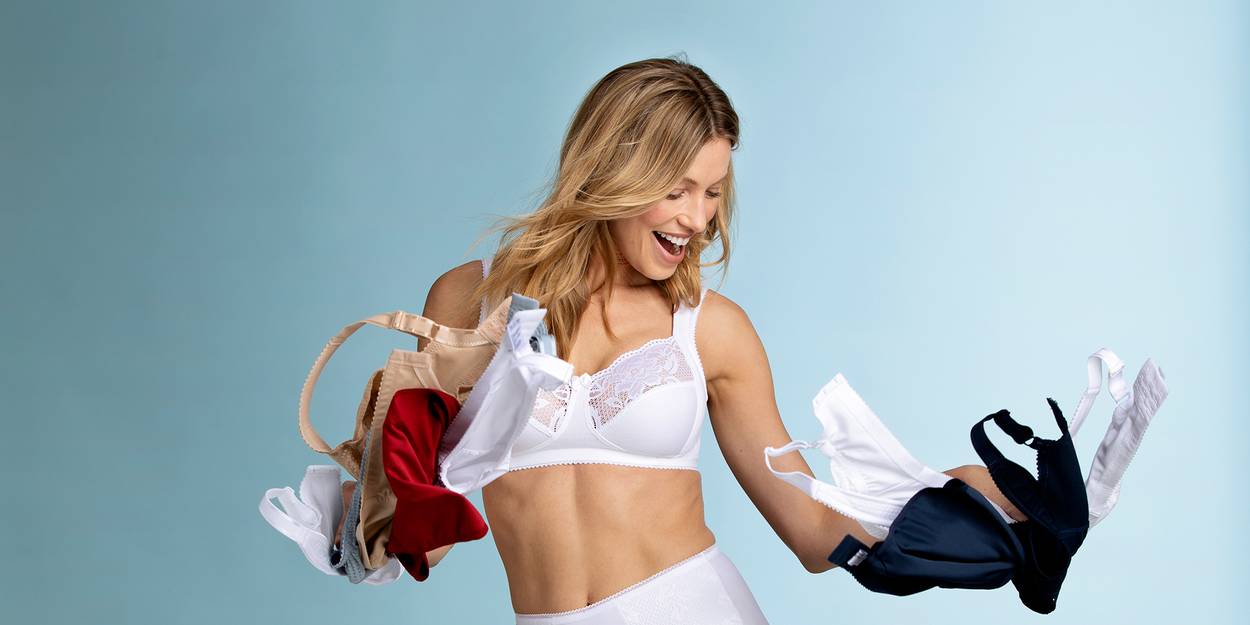 For many, buying a bra online can seem like a complicated experience. How do you know which model to choose or which one will fit well, and what do you do when it arrives and doesn't fit? We'll guide you through the process.
In a shop, even if you don't know your exact bra size, you can see and hold the garment and judge by eye whether it's likely to fit before taking it into a changing room. Online, you don't have the same options. But even here you have access to a physical changing room, your own home, where you can try a garment on for real and see how it fits.
Step 1: How do I know my size before trying a bra?
Before you buy a bra online for the first time, it's a good idea to go through the following steps:
• Do I already own a bra of this brand? What's the sizing like? If it's an older bra, have I gone up or down in weight since I bought it?
• Go through your wardrobe; what size bra do you normally wear? Sometimes several sizes may fit; it's not unusual to have for example an 80D, 85C, 90B in your wardrobe and for them all to fit well. This is often a result of bras being somewhat elastic and sister sizes. Read more about sister sizes here.
• Put on a bra you bought recently and see if the cups fit well. If there's empty space in both the left and right cups then the cups are too big for you; if a 'muffin effect' is created over the top edge or at the sides of the cups then the cups are too small. Similarly, if the underwire cuts into the breast tissue or isn't in contact with the breast bone the cups are too small.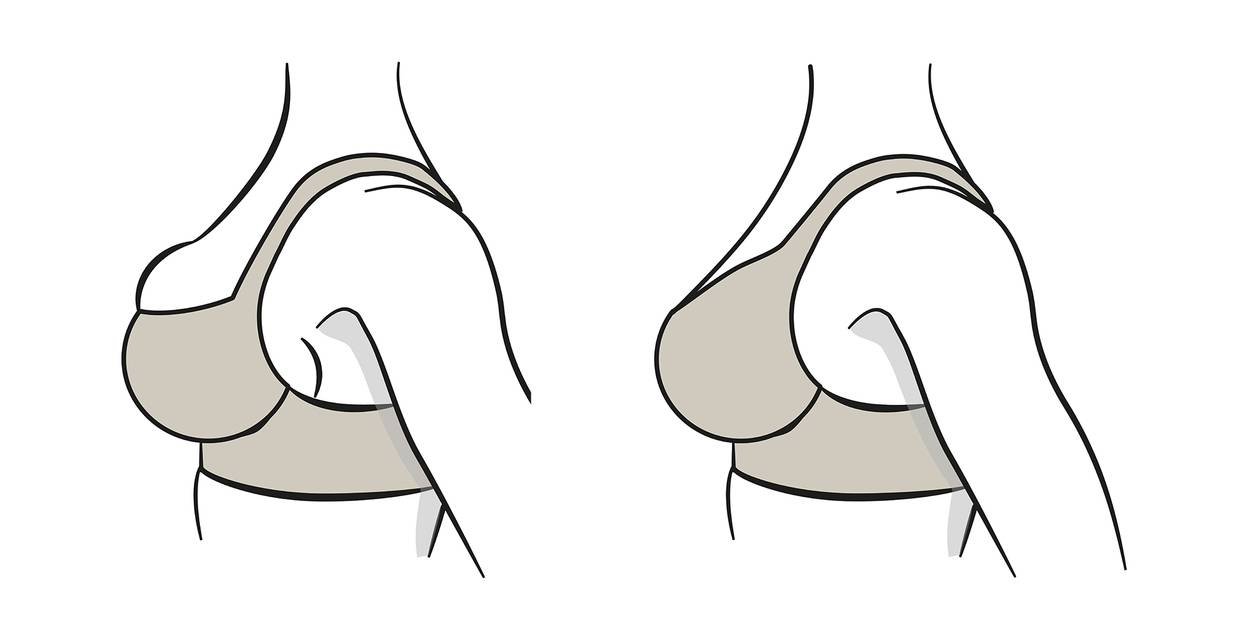 When a bra fits perfectly, no breast tissue should spill out over the edge of the cups or towards the armpits as in the picture on the left. Pictured on the right is a perfectly fitting bra.
• Does the band fit well around the back? If a bra is old the band will often have stretched and no longer correspond to the size shown on the label. If an old bra that has stretched fits well around the back you'll probably need to choose a larger band size on your new one. For example, if your old bra is a size 85C choose a 90B. A C cup is not the same across all sizes. To get the same cup volume, you need to go down a cup size every time you increase the band size. Conversely, if you go down a band size you need to increase the cup size, for example 85C to 80D.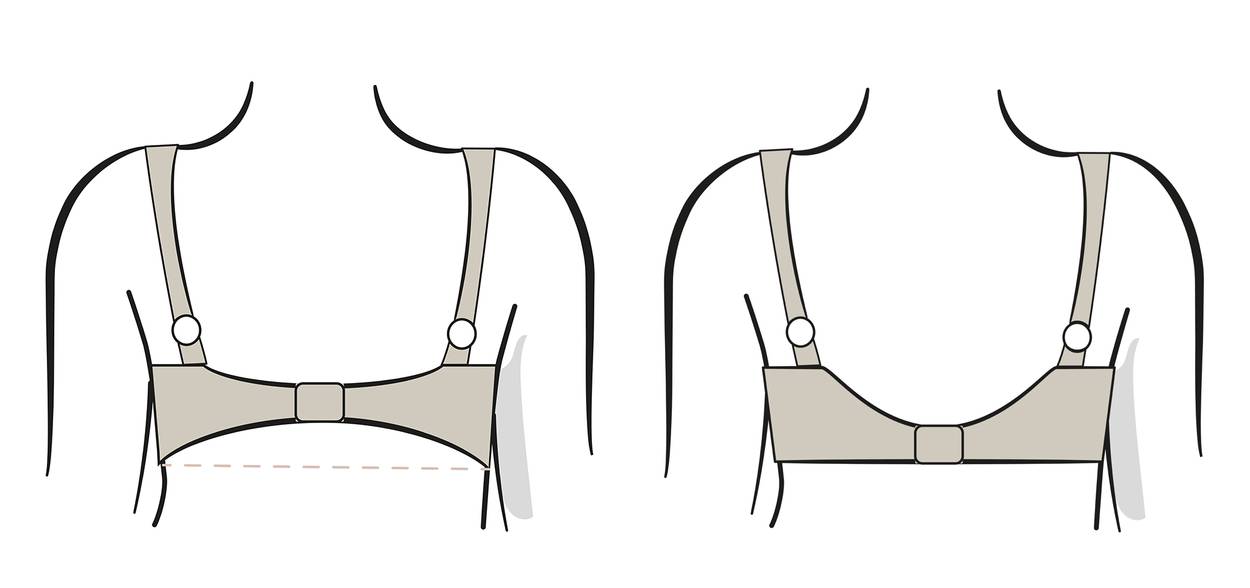 If the band is pulled up at the back, as in the picture on the left, your band size is too big. Pictured on the right is an ideally fitting bra.
Step 2: Find your size
The next step is to check your measurements with our size chart, which you'll find here. If the size from the table matches your bra at home you can order that size from us without a problem. This is also true for sizes that are very similar.
On the other hand, if there's a difference of several sizes, for example if you usually wear a size 80F but read a 90A on our table, contact our customer service and they'll help guide you.
If the measurement you get is smaller than what you usually wear, it's probably because the tape measure is too loose under your bust. This will affect the cup size reading you get. Then take a few centimetres off your band size and the cup size will increase. How tightly or loosely you want your bra to fit around your body is highly individual.
If you have a large bust we recommend a smaller band size to prevent the shoulder straps from having to support the weight. The materials used for the back and sides of a bra are always elastic and will stretch over time. The tighter the bra fits the more support it'll give and the larger the letter size of the cups will be. You can go from a 90B that fits loosely around the body to a 75E. You'll still get the same cup volume but with a tighter fit around the back. Read more about how to convert cup and band sizes in our article on Sister sizes.
"If you measure and get a smaller cup size than you usually wear, it's probably because the tape measure is too loose under your bust."
Step 3: Choose your bra
Now that you know your size you can start thinking about what type of bra you want. If you prefer, here are some questions you can ask yourself to narrow down the options:
• Underwired or non-wired?
• Padded or unpadded cups?
• Padded or normal shoulder straps? If your bras tend to chafe your shoulders it can be nice to have one with extra wide padded shoulder straps.
• What style do you like? You can choose between colourful options and base colours like beige, brown, black and white. Do you prefer a pared-down style without embellishments or a more romantic and beautiful style with lace and embroidery?
• What types of clothes do you usually wear? If you wear thin or tight-fitting clothing do you mind if your bra is slightly visible underneath? A T-shirt bra has no seams on the cups, making it more discreet under clothing.
• In what situations will you be wearing the bra? Is it for sports, home wear, work or lounging on the sofa?
"Choose a bra that fits your lifestyle and whether you mostly sit still or are active at work"
What does your average day look like?
Another good thing to think about is how much you move around during the day. Do you have an active job, for example in a commercial kitchen where you have to move around a lot, or one in which you're mostly sitting still? Perhaps you're retired and don't work at all. Think about what your day usually looks like and whether you're mostly sitting still or out working in the garden, Nordic walking or exercising the dog. If you're very active you may be more comfortable in a bra made from a breathable material like cotton or a functional fabric like Keep Fresh.
Search for your desired bra type in our web shop. Once you've decided what type of bra you want, you can start looking through our collection in our web shop. We've organised our collection into different categories so you can easily search for, for example, bras that have an underwire and are made from cotton. It's really convenient when you're looking for a specific feature and a big advantage of buying a bra online rather than in a shop.
"We've organised our range into different categories so you can easily pick out the type of bra that suits you best"
Filter by size. When you're searching for a bra in our web shop, you can make it easier by first selecting your size and seeing which models are presented. Then pick out some options you like the look of and read through their product descriptions carefully. We try to describe the products and their features in as much detail as possible. For example, some bras have shoulder straps that are more narrowly positioned, perfect for those who usually have problems with straps that slide off the shoulders.
Once you've chosen an item, all you need to do is pick the colour (if there are multiple colour options) and size and add it to your basket. You can then continue shopping for more items or go straight to the checkout. When you've completed your order, we'll send you an order confirmation to your email address.
Is it safe to shop online?
When you're buying through our web shop, you can always be confident that it's completely secure. It's been 8 years since we started our web shop and began selling to our customers directly online. Before that, we sold via our catalogue for over 50 years. We've always chosen to invest in providing the best possible service and experience so that as a customer you can feel safe. That's why we have a customer service team who'll provide you with personal assistance during our business hours. We're open 7 days a week. If you have any questions, we're just a phone call or email away.
How do I pay for my items?
Our webpage is encrypted so none of your personal details are at risk. In most web shops, including ours, you'll often see the different payment options on the homepage, usually at the very bottom or top of the page. That way you can see the options before you start selecting your items. At Miss Mary, we use several payment solutions, for example Klarna and PayPal, to give customers as much freedom as possible.
One example of the payment solutions we use is Klarna, which offers several ways for you to pay: via invoice, direct payment, instalment payments or credit card. It also often offers a 'buy now, pay later' option, which means you don't need to pay anything until you've received your items.
If you want to pay at the point of purchase but don't want to give out your card number, PayPal is a smart payment option. To pay with PayPal you need an account, which you can easily register for on paypal.com or via the PayPal app, which you can download on your smartphone. Once you've registered your PayPal account with your email address, you can then link your bank card to it. When you then choose to buy from a store that offers PayPal you'll never need to provide any card details. Just select PayPal as your payment option at the checkout and you'll be directed to the PayPal website to log in and confirm your transaction. PayPal was created as a safe and secure way of sending money between private individuals as well as sellers and customers.
How will my items be sent?
When we send the items from our warehouse in Tallinn, Estonia, you'll receive an email to let you know they're on their way. It'll also include information on how to track your parcel. We try to always dispatch orders from our warehouse the next working day, but due to the ongoing pandemic you may experience delays as we're operating with fewer staff than normal and have implemented strict safety procedures to protect them.
How will I receive my items?
Our products don't take a lot of space and can therefore be delivered in a bag that'll easily fit through your letter box. That means you'll rarely need to collect them from a collection agent/service point. However, if you've ordered a lot of items your package might be too big to deliver through your letterbox, in which case you can collect it from your nearest service point.
"At Miss Mary we always offer 100 days right to return, so you have plenty of time to decide if you want to keep the item or return it."
Can I return an item I've bought online?
You always have the right to return items you've bought online. At Miss Mary we've chosen to increase our right to return to 100 days! We want our customers to have time receive their item, try it on at home in peace and quiet and not be rushed to return it.
If you want to return an item, just send it back to us in the same bag it came in (or a normal envelope/bag) using a standard stamp. Even if we've sent the item from our warehouse in Tallinn, you don't need to send it there. Our return address is always in the same country as you live and is printed on the return label attached to your parcel.
If you chose to pay by PayPal, you can receive a refund for the cost of your return postage through PayPal if you request it. This is a service offered through PayPal itself. If you chose a different payment method, you'll need to cover the cost of return postage. Currently we've chosen not to offer free returns as standard in order to offer the best possible prices on our products. Normally when a company offers free returns, the cost of return postage is baked into the price of the product.
In the unlikely case that we send you an incorrect or damaged item, we will of course cover the cost of return postage. Write to or email our customer service and they will help you. You can find our contact details here.
How will I receive my refund if I return an item?
When you receive your item you'll also get instructions on how to complete a return. If you paid for your item at the point of purchase, for example via card payment or PayPal, your refund will be paid to your account. If you chose to pay by invoice it will be cancelled.
Last but not least…
If you have any questions, big or small, we're here for you. No questions are too silly. Buying bras and talking about breasts can be an intimate thing, which is why we only employ women in our customer service department, so you can feel as safe and comfortable as possible. Our customer service team will answer any questions you have, whether it's about size and fit, a problem with a bra, product recommendations or questions about your order or delivery. Our company is built on trust, and we work hard to earn yours. That's why we always ask you to contact us if you're not satisfied with your purchase or product.