Are there undergarments that cool the body?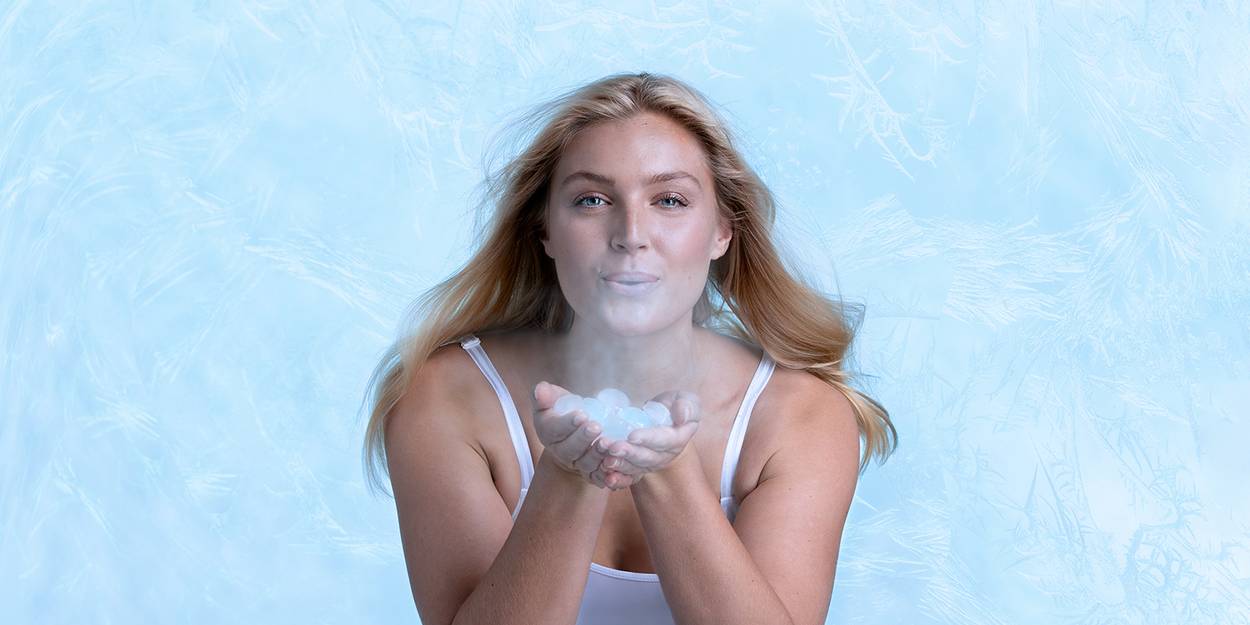 During the warm months of the year or during the menopause, it's nice to wear cooler garments. Our best suggestion for dressing to stay cool is to start underneath, i.e. with the right kind of undergarments. It can really make a difference. Here, we take a closer look at something many don't know exists – undergarments that cool the skin.
Functional material – not just for outdoor wear
When we think of material for undergarments, we may think mostly of cotton, polyamide, silk or lace. It is rare to think of pure functional fabrics. Aren't they used mostly for outdoor clothing or sportswear? The fact is that functional fabrics are also ideal for undergarments as they are in direct contact with the body and can regulate both heat and moisture.
Cool Sensation is made from WinCool and is available as a camisole and panty with long legs
One of the most fantastic functional materials we know of and that we use here at Miss Mary is WinCool. It is an exclusive quality that feels soft and smooth against the skin. It is thin and flexible, making it perfect for undergarments. But what really makes WinCool unique is its ability to cool the body! It has a tested and documented effect of cooling the skin by 1-2 degrees! It also has properties that lead moisture away so you maintain that fresh and dry feeling throughout the day and night.
How does wincool work?
So, what is it that makes WinCool cool the skin? There is no after-treatment that impregnates the finished fabric; instead, the textile fibres themselves are treated with minerals that have a cooling effect. This makes the fabric absorb heat slowly and get rid of it quickly. The effect is lasting and doesn't disappear in the laundry, in other words perfect for undergarments as these are washed often.
"WinCool contains no harmful substances"
The material contains no harmful substances but is 100% safe for humans to use. WinCool material is rated Standard 100 by Oeko Tex, an independent global testing institute that checks that textiles don't contain any harmful substances.
Perfect for reducing thigh chafing
Thigh chafing is something millions of women suffer. On hot summer days, it can become quite painful if the thighs chafe against each other and, in the worst case, the skin can become irritated or raw. This leads many women to simply choose not to go barelegged. That's why we have designed our COOL SENSATION panty with extra-long legs. The long legs prevent chafing when walking. In warm weather, sweat is unavoidable, but as WinCool remains dry and cools the skin, the risk of thigh chafing is reduced to almost non-existent. On any other panties with long legs, burls start to form quite quickly from the friction of the thighs chafing against each other, but WinCool is durable and burl-free.
We recommend using the garments when or if you:
• have difficulty sleeping because it is too hot.
• suffer from thigh chafing. You can enjoy going barelegged under your skirt and avoid wearing tights or sticky ointments and creams. Fold up the legs of your pants if you are wearing a short skirt or shorts.
• under trousers on hot days or when you are doing sports.
• are bothered by heat, e.g. on hot summer nights or if you suffer from hot flushes.
• sweat a lot, for example, have hot flushes. WinCool's ability to lead away moisture allows the material to stay dry.
• don't want to run the air conditioning on the highest power and/or want to reduce the electricity consumption of the air conditioning. During warm months or if you go on holiday to warmer latitudes, COOL SENSATION is really recommended. If you don't have a working AC at home or in the hotel room, it really makes a difference.
"Cool Sensation is perfect as sleeping garments"
As the material is thin, it is naturally a little transparent. We therefore don't recommend wearing COOL SENSATION instead of cycle shorts or the camisole without another garment on top. The garments are intended to be worn as undergarments.
They are of course also perfect as sleeping garments, especially on hot summer nights or if you are going through the menopause and suffer from hot flushes. The cooling feeling from them is lovely. A small victory in everyday life for thousands of women.