Creating a bra - a visit to Miss Mary's bra atelier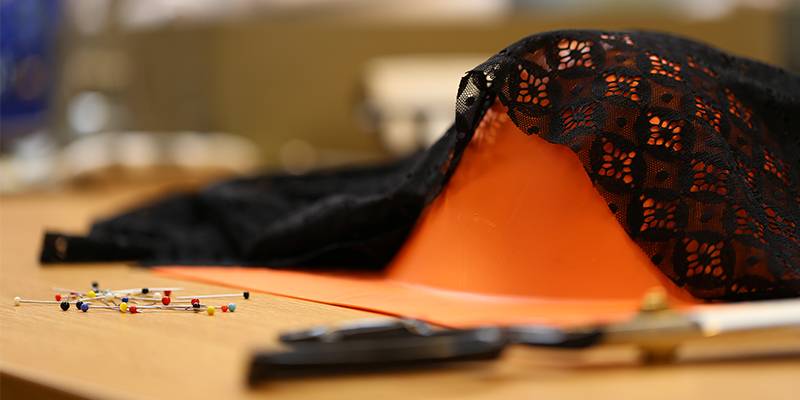 Unlike most textile companies in Sweden today, Miss Mary doesn't just retain its design department in its head office but also the test sewing. In today's article, we visit our bra atelier where our team works to produce the perfect fit for your next Miss Mary bra.
Miss Mary's bra atelier and design department are located in the center of the Swedish textile town of Borås where we have been since the company was founded more than 60 years ago. On the top floor of the Textile Fashion Center, our staff has an open plan office with lovely light from the large skylights. Much of the office space here is taken up by our design department and its bra atelier, and today we are diving into what exactly happens in this department.
A sneak peek from the outside in to our design department at the office in the Textile Fashion Center in Borås
This is where our designers and pattern makers, and sample seamstresses and sewing technician (one of the latter also teaches lingerie sewing at the Swedish School of Textiles), work. Together, these women have over 120 years of valuable experience making bras. That is leading-edge competence that is much needed, as bras are very specialised to design and make compared with most other garments. In this series of articles, we will be telling you more about the art of making bras and sharing our industry secrets. First up, is the design and the important roles of the pattern makers and test seamstress to the whole.
"The design department has 120 years of specialist competence in making bras"
The magic from a designer's vision and a pattern maker's technique
A designer is responsible for keeping up with trends and colours, choosing materials and creating a coherent collection by sketching the garments. The choice of material is incredibly important when it comes to the fit and support the bra provides. The designer's vision is then implemented by the pattern maker who is the link between design and production. The pattern maker figures out the smartest way how to construct the bra and create the actual pattern pieces in all individual sizes.
At Miss Mary, the roles of designer and pattern maker were previously separate, but for a few years now they have been integrated. Our designers also work as pattern makers and are responsible for the whole chain from sketch to final fit. This means that the technical demands on our designers are extensive, and that's where their many years of specialist competence in making bras come in.
"Making a bra is a precision job and every bra requires hand finishing"
For some collections we have used an external guest designer, for example when swedish couture master and royal designer Lars Wallin designed the first collection for our exclusive lingerie collection Visionary. After Lars had created the designs and chosen the materials, our pattern makers produced the patterns and were responsible for the fit and also what may be the most time-consuming process in the whole chain: the grading. So what is grading?
"Our designers also work as spattern makers and are responsible for the whole chain from sketch to final fit"
Here we see pattern-maker and designer Marie-Louise producing a lay plan on the computer.
Meticulously crafted by hand
After the pattern maker has created the pattern pieces, she has to grade it, i.e. adapt the pattern to all the other sizes in which the bra is to be made. As bras have a double sizing system (every band size has several cup sizes), this results in a bra being available in a very large number of sizes compared with, for example, a dress, jacket or camisole. In fact, it is not unusual for a bra to be available in 75 sizes!
A highly skilled pattern maker can grade a bra so the fit is as great in all the sizes whether you have big or small breasts and a narrow or wide back. She assesses whether the material will also be suitable for big sizes, how much it will stretch if the material is elastic, whether it needs narrow or wide shoulder straps, etc.
"A highly skilled pattern maker can grade a bra so the fit is as good in all the sizes"
Depending on how the bra is designed, the grading can sometimes be efficient and easy, but some styles can turn out to be very complicated and result in having to go back to the beginning! In the worst case, it may need to be redone several times. Sometimes you may also have found a fantastic material you want to use for a future bra that you have designed and want to have in, for example, an H cup, but you know that the material you really want to use will not be suitable for a large cup size. You then have two choices – keep the material but make a smaller range of sizes or keep the style but use a different material.
"If a bra style is available in 75 sizes, 2400 pattern pieces need to be drawn"
An underwired bra in a standard design can consist of approx. 35 pieces and all these individual pieces have to be adapted for every size. If a bra is available in 75 sizes that means 2400 pieces need to be graded! Even if this is done in a grading program in the computer, it is not done automatically in the program, each curve and pattern piece has to be drawn and tweaked manually. This is the most time-consuming process in the whole design process. Quality takes time.
"For optimal control over the fit, our pattern makers do all the grading in-house"
Not like everyone else
The way the grading is done and the patterns are produced differs greatly between companies in the industry. Some companies have designers who draw the garments and then let an external factory or supplier produce the patterns, do the grading and make the sizing lists. Other companies design and draw the patterns themselves in one size and then let someone else do the grading. The most common when it comes to bras is to do the grading for every other size and let a computer work out the differences. The quality of the grading is decisive to how well a bra will fit in all sizes. There is a big difference between cheap brands and quality bras. At Miss Mary, we grade every size very carefully. It is allowed to take the time it takes to get it right.
"The latest technology makes it easier but can never replace manual work"
We have also chosen to keep the whole process in our own bra atelier so we have optimum control of all steps. Our designers, pattern makers and sewing technicians work closely together to ensure that all our styles really fit as they should and are comfortable to wear in all sizes.
The pattern for a bra is cut out in hardboard and read into the computer.
Test sewing in the atelier in Borås
Today, it is very unusual for a clothing company to still have its test and sample sewing in Sweden. In the 1990s, many companies in Sweden moved their test sewing abroad along with the main production. Here, Miss Mary is an exception and we are really proud of that!
A classic industrial sewing machine used for normal straight-line stitching
Our bra atelier at the design department is fully equipped with all types of machines required to sew all the specialist seams on a bra – from normal straight-line stitching to flatlock stitching, from three-step zigzag to French over lock, from overseam stitching to piping, and many more. A normal bra has approx. 60 seams and requires 65 different steps to put all the pieces together. The underwire, for example, is threaded through the underwire band by hand.
"A sewing technician like Eivor, who has 20 years' experience of sewing bras, is an invaluable asset to a company"
After the pattern has been drawn, the pattern maker prints it out and cuts the material according to the pattern pieces. In our workroom, our sewing technicians Eivor and Marie then sew samples of all new bra styles and work with the pattern makers to adjust and improve them throughout the process. We start by sewing a bra in a B-cup and check that this fits well. We then sew a C-cup and so on up through the sizes.
"A single bra has approx. 60 seams and requires 65 different steps to put all the pieces together"
The art of fitting
For a bra to have optimal fit, it's not enough to just to try it on a tailor's dummy, we also need to try it on a real body so we can see how it fits and feels, and works when moving. That's why we call in women of different sizes to our atelier for a personal fitting. We often have to sew one style several times after the fitting to really get a perfect fit in all situations. When grading between small and big cups, much can differ along the way. A B-cup and an H-cup place very different demands on the design and material.
For everything to work as well as possible, everyone in the design department has to work very closely together. Everyone depends on everyone else and on the test panel of women who are our fitting-models. The pattern makers also have to sync their work with each other and be fairly close in their fitting work so that when the test-panel come to the atelier for the personal fitting sessions there are several bra styles from the collection for them to try. This whole process back and forth continues for quite a long time.
"We have fine-tuned and tested our method and design process for 60 years"
When we have finished the bra styles in all the sizes, we send a perfect, exactly sewn garment in a certain size together with the pattern and descriptive documents to our own production facility which is in Tallinn, Estonia. After one sample of each size has been sewn, a sewing technician together with our material purchaser and quality technician travel there to go through all the samples together with our colleagues in Tallinn. All the sizes are tested and measured to make sure they correspond to the measurement lists and do not deviate. This is very important as our products are sold online. Customers must be able to rely on the sizing tables.
Checking them once more at this stage gives us one more chance to really see that the garment you receive to your home is completely right. It has happened that we have stopped some bra models and delayed them to the launch of the next collection to give us time to work even more on the fit.
… And then what happens?
Several tests and measurements are not enough. To ensure the best quality, we use a test panel of a dozen women who wear and test a sewn sample garment for several weeks so we can be sure that the material lasts and, for example, doesn't bobble, become unattractive, rub or is lopsided.
"A test panel always tries a bra out
before it goes into production"
The garment is also washed many times. After that we hold a final collection meeting in which we go through what everyone thought about all the bra styles. We then make any last-minute changes before we press the button to start full-scale production.
Every Miss Mary bra you have bought in recent years has gone through the hands of these women
From the left: Anne (designer/pattern-maker), Marie-Louise (designer/pattern-maker), Eivor (sewing technician),
Marie (sewing technician) and Ing-Marie (designer/pattern-maker).

Through this design process, which we have fine-tuned for more than 60 years, we have developed a method that reduces the error margin as far as possible. For us, quality is more than just a word we say because it sounds good. We have integrated it into the whole production process. It's not for nothing that we have chosen so many steps and have retained our grading and test sewing in Borås. But, of course, no one is perfect, so if you should ever discover that you are not satisfied with your Miss Mary product, we really would like you to contact our Customer Services so we get the chance to help you. You always have a 100 day right to exchange or return the product(s). All feedback, whether negative or positive, helps us to create your perfect bra.
In future articles, we will tell you more about the actual process of designing a bra, so visit our blog soon again. Tell us in the comments field if there is anything you have always wanted to know about lingerie that you would like us to discuss in the blog. See you again soon.