This is how you get the shoulder straps on your bra to stop sliding down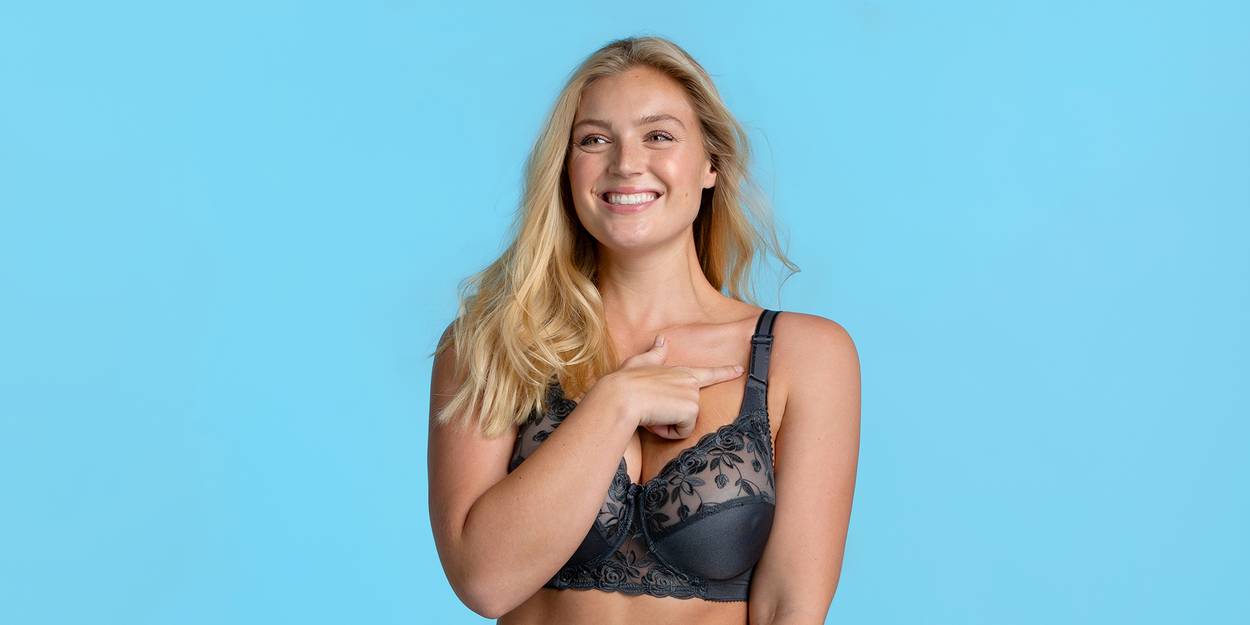 Do the shoulder straps on your bra usually slide down during the day? Here is our guide on how to keep shoulder straps in place, even on the most narrow and sloping shoulders.
Did you know that the shoulder straps account for about 20% of the support a bra provides? That means that while they play a role in providing support, they are not the most important factor in this regard. You can compare the role of shoulder straps to that of laces on a pair of shoes. The shoes need to be the right size and fit well, but the laces ensure that your feet don't slip out of them. It's not the shoulder straps that should lift the bust; that's what the cups and band around the upper body are for. The main role of the shoulder straps is to act as a support partner for the cups.
If your bra regularly causes 'grooves' on your shoulders, it's because you're wearing a band size that is too big and have shortened the shoulder straps too much. This is especially common amongst women with large breasts.
The shoulder straps should not fit so tightly that they leave grooves.
Just as common as over-tightening your shoulder straps is the opposite problem, wearing your shoulder straps too loose. This results in them constantly sliding down and you needing to adjust your bra throughout the day. Here are our tips for how to get the best possible experience from your shoulder straps.
Check your shoulder straps every day
The most common reason for shoulder straps sliding down is that they're not adjusted regularly. You need to adjust them every day. The more use a bra gets, the greater the risk that the shoulder straps wear out and start becoming loose during the day. If this sounds like a bra you own, unfortunately it's seen its best days and you need to throw it out.
Some bras like ROSE have shoulder straps that you can adjust at the front.
Front-adjustable shoulder straps
If you have difficulty getting your shoulder straps to the right length, there are some that adjust at the front instead of the back; they're easy to reach during the day and you don't need to take your bra off to change the length.
Bras with no-slip shoulder straps
How widely the shoulder straps are spaced varies between different bra models. Certain models have so-called no-slip shoulder straps that are designed with narrower spacing on the back to prevent them from sliding down.
"The distance between the shoulder straps varies from model to model. No-slip shoulder straps are more narrowly spaced than others."
The bra FLAMES has no-slip shoulder straps that are more closely spaced on the back to reduce the risk of them sliding off the shoulders.
Fasten the shoulder straps together across the back
Certain bras have detachable shoulder straps that you can completely unfasten and cross at the back; others have a small hook that allows you to fasten the shoulder straps together across the back. Hooking the shoulder straps together or crossing them makes it impossible for them to slide down.
Don't use a bra extender
Many choose to use a bra extender if they've gone up in weight and feel that their bra is too tight around the body. It's an extra piece of material that can be attached to the bra fastener to increase the band size. If you have problems with your shoulder straps sliding down, we only recommend you use a bra extender on newly bought or newly washed bras before they've become stretched or if your weight gain is only temporary, for example during pregnancy, and you don't want to or can't buy a new bra wardrobe. When you use a bra extender, the distance between the shoulder straps necessarily increases since it's attached to the back fastening of the bra.
Use the innermost position on the fastener
Do your shoulder straps slide down even when wearing a bra with no-slip shoulder straps? Buy one band size larger and use the innermost position on the fastener from the start. This way the shoulder straps will be positioned even closer together. We usually recommend using the outermost position of the hook and eye fastening on new bras initially, but there are always exceptions, and this is one.
"Our narrow shoulder straps are slightly wider for larger cup sizes."
Use shoulder straps with stretch
Certain bras have entirely stiff shoulder straps that often need to be adjusted so they don't fit too tightly. Stiff shoulder straps make it difficult to lift your arms etc. without them cutting in or pulling on your bra. That's why you should always wear shoulder straps with stretch. They don't need to be entirely elastic, but certain parts should be. On our padded comfort shoulder straps, for example, the wide part that sits on top of the shoulder is completely stiff, but at the back across the shoulder blades the shoulder straps are narrow with stretch and allow the length to be adjusted.
The wide padded area of our comfort shoulder straps is stiff, but at the back they are narrow and have stretch. The length can be adjusted on the narrow part.
If you're short or your bust is high up, these wide padded shoulder straps can sometimes be too long; in other words, you'd need to shorten them more than they allow. While the padded shoulder straps are comfortable, and a big hit with most women, the downside is that there is a physical limit to how much you can lengthen or shorten them. If you've already shortened them as much as possible and they're still too long, and therefore are still sliding down your shoulders, we recommend some of our bras that don't have wide padded shoulder straps. Choose a bra with regular narrower shoulder straps.
If you have a large cup size, bear in mind that many of our narrower shoulder straps are often slightly wider for larger cup sizes. Read the product description; we always state whether the width of the shoulder straps changes for bigger sizes.
If you feel unsure which bra and size best fit your needs, please contact our customer service. We are here to help you find your way in what can sometimes feel like a jungle of bras. No question or concern is too big or too small.