Premiere for the new spring-summer products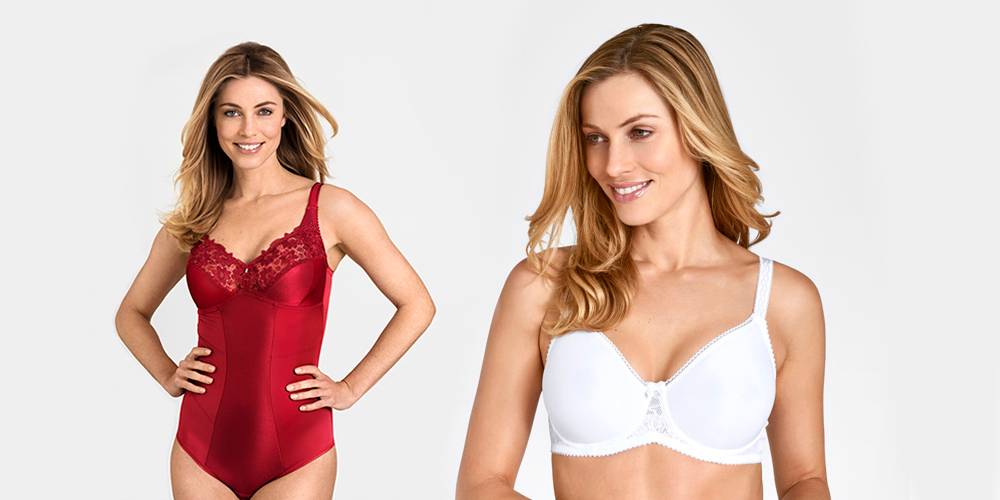 Beloved favourites in fresh new colours and, of course, brand new models of comfortable bras, panties and bodies. Here are this spring's most wonderful undergarments from Miss Mary.
The new products this spring range from bra models in high-technological functional material to classic models in natural cotton, models with extra support and lovely comfort bras, elegant lace and exclusive guipure embroidery. The colour theme this season won't escape anyone. English red dominates the whole colour range together with the most classic of undergarment colours – white and black.
Long-lasting fresh feel with a cooling t-shirt bra
We're launching more products in our popular 'Keep Fresh' material. The COOLING T-shirt bra is available underwired (photo above) and non-wired (photo below). The elastic 'Keep Fresh' material in the cup lets the skin breathe and creates a long-lasting fresh and cooling feel. The moulded cup is unpadded and unlined so you can get the very best out of the material and feel how nice it is against the skin. The bra also has pretty lace details at the front and on the back, and the shoulder straps are beautifully decorated. Watch Elisabet talk more about what makes COOLING non-wired bra a standout in our video here.
Combine your COOLING bra with matching panties for a nice overall look. The COOLING panty is made of soft material that is comfortable against the skin. The front section is lined, providing extra stability and making it less transparent. Soft elastic in the waist guarantees great comfort all day. The beautiful stretch lace on the bra is also used around the leg openings at the front and back on the panties.
Get the perfect lift with a queen undewired bra
The QUEEN non-wired bra is one of our best supporting non-wired bras, and now this favourite will also be available in an underwired model. Padded support construction in the under cup together with the underwire gives fantastic lift and keeps the bust securely in place all day without increasing the volume. Available in two colours – white, and grey with two-tone lace.
Grace underwired bra with extra support construction
The GRACE bra has padded support construction in the under cup, providing good lift for the bust even though the bra is non-wired. The bust is held in place all day thanks to the extra support and the high-cut cup. As the lace on the cup is elastic it provides a nice custom shape. Our popular padded, wide shoulder straps provide extra comfort and relieve the shoulders.
Lovely comfort with cotton fresh non-wired bra
The COTTON FRESH non-wired bra, which was previously only available in white, will now, due to popular demand, also be available in beige. Comfort and function are in perfect harmony in this cotton favourite (a full 67% cotton) with an extra high cut at the front. At the side, under the arm, we have added an extra panel to help smoothen the 'muffin effect' that often occurs under the armpit. It also helps to protect your clothes.
Red is the new black
Red is a colour that always feels in and is a real classic on the undergarments front. Did you know, for example, that you can wear a red bra under your white blouse or jumper and it won't be any more visible than a beige bra? Red may not be the most discreet colour, but under white it really is and we love that!
The spring's new models include many brand new models in our popular colour English red, and we are now launching many best-sellers in this fresh and exciting shade. Broderie Anglais, Cotton Dots and Lovely Lace with matching panties are three of our most popular non-wired bras that will now be available in English red. If you prefer an underwired bra, the best-seller Romance is now also available in English red.
As well as our new products, our range consists of a wide range of best-sellers and modern classics. Regardless of model, they all have perfect fit and comfort in common. Hundreds of hours are spent on pattern design and size grading for every bra model. This is done to make sure the bra is as comfortable and fits as well in every size. Every garment is then tested by a group of women who wear it for a long period so that we can be sure that the quality lasts over time and that the garment puts up with many washes and wear. All this means that it takes a long time to produce every new Miss Mary bra. We therefore cannot produce a hundred new products per year, something we are proud of! A Miss Mary undergarment is not a throwaway product or a bra you change every season. Quality over quantity is our motto. It is simply allowed to take the time it takes. We hope you'll like this spring's newcomers as much as we liked creating them.