What is the difference between a t-shirt bra, a moulded cup and a contour bra?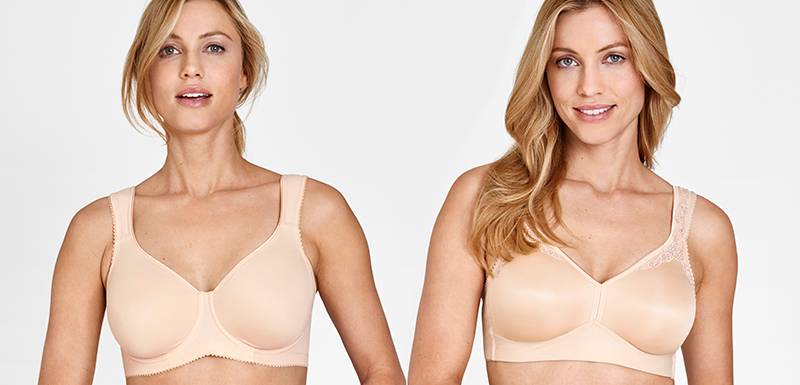 A T-shirt bra is the perfect basic garment in your undergarment wardrobe and one of the most popular types of bra. But what really is a T-shirt bra? And is there any difference between a contour bra, a moulded bra and a T-shirt bra? We are going to clarify the terms.
Moulded bra
On a bra with moulded cups, the cups are smooth without seams and each cup is made of a single piece of material. The moulding is done by shaping the fabric with heat treatment over a metal breast shape, and the material thereby takes the shape of the breast despite not having any seams. For each cup size, there are two shapes, one representing the left breast and one the right. The shaped material keeps its shape and does not return to its original shape.
"A moulded cup is made from one piece and has no seams"
The most common is moulded cups with thin padding of a few millimetres, but there are also some without any padding and with and without lining. The picture above shows the moulded bra Smoothly with an unpadded, non-wired cup.
The benefit of a moulded cup is that it gives a very round shape. A moulded cup does have some limitations, however, as it cannot be made in very big sizes as there is a limit to how much a fabric can be reshaped. Read more about moulded cups in our previous article Should I choose a moulded cup or one with seams?
T-shirt bh
A T-shirt bra has smooth seamless cups. The name originally comes from the bra being wearable under a white T-shirt without any visible cup seams or structure. It is quite simply the perfect garment to wear under tight and thin clothes. Below is an example of the Keep Fresh moulded T-shirt bra with unpadded cups.
A T-shirt bra has smooth moulded cups with or without padding"
T-shirt bras are available with and without an underwire and the cup can have different types of filling. A T-shirt bra may have anything from an unlined cup to a fully padded cup and with a pad for the push-up model. A T-shirt bra can have a covering full cup or a low cut with a plunging neckline. The common denominator for all T-shirt bras is that the cup is moulded.
Contour bh
In recent years, contour bras have become common, or rather the word is heard more often. The contour bra in itself is nothing new and has been around for many years. The contour bra has a fully padded cup that is almost always moulded (sometimes it can have discreet, flat seams to provide better support) and it usually has an underwire. When you wear a contour bra, it shapes your bust rather than the other way around.
"A contour bra always has fully padded cups"
It is not unusual for women who wear a big cup size to avoid contour bras as they believe the padding will increase the volume and make the bust look bigger. The contour bra is designed to give a round shape to the bust and not to increase the bust size. The padding is usually only 2-3 mm thick.
"A contour bra has a defined cup shape even when the bra is not worn on the body"
Another advantage of a contour bra is that it makes the breasts look completely symmetrical as the moulded, padded cup already has a defined shape, and it is therefore not noticeable if the small breast doesn't fill the cup. If you are looking for the perfect round shape, the contour bra is therefore an excellent option.
The perfect example of a contour bra is usually a bra made from spacer material, for example our popular new Confident underwired bra, which has become a real bestseller. Read more about spacer material here.
Is a t-shirt bra always a contour bra and vice versa?
The difference between a contour bra and a T-shirt bra is that a contour bra always has fully padded cups and retains its cup shape even when you are not wearing it, while a T-shirt bra can be unlined and unpadded and thereby does not define the shape of the breasts in the same way. All T-shirt bras and (almost all) contour bras are seamless and moulded. But all moulded bras are not T-shirt bras or contour bras as a moulded bra can be covered with, for example, lace, embroidery or materials with seams.
So, to sum up, a contour bra is a kind of T-shirt bra, but a T-shirt bra is not always a contour bra.