Why 5 bras are better than 2…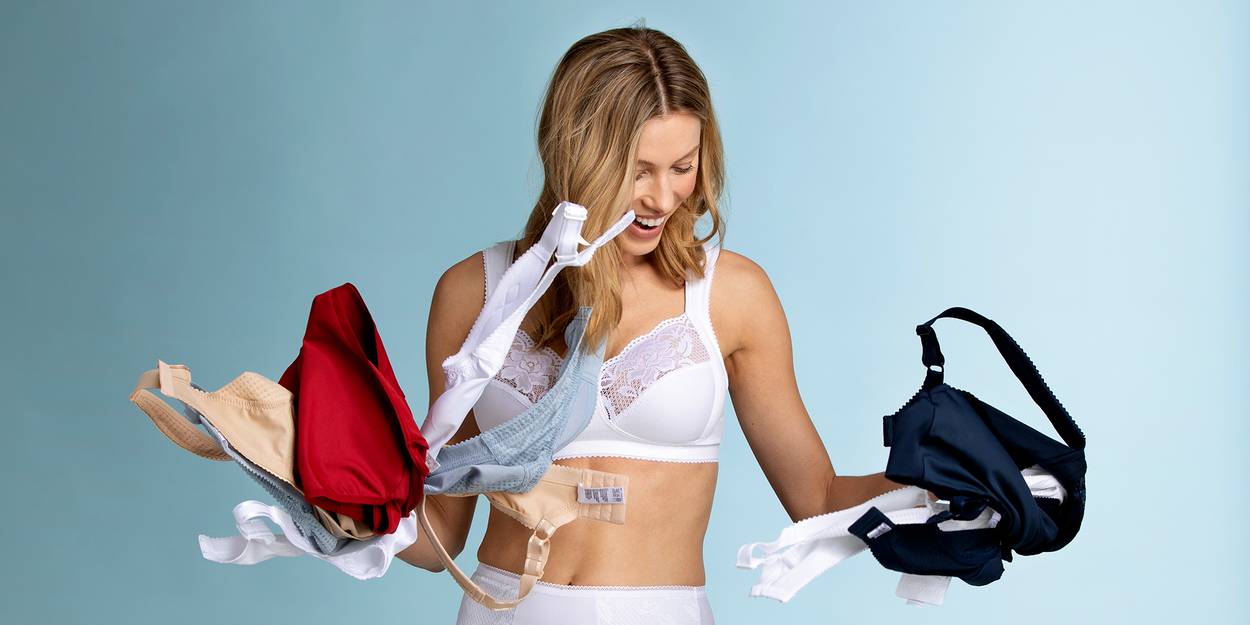 How many bras do you really need in your wardrobe? One, two, three…twenty? Is it ok to own just one bra that you use, wash, dry overnight and then use again the next morning? Absolutely, if you want to buy a new bra every other month. Here's why five bras are better than two (and no, we're not saying that just to sell more bras).
Have you considered that if you own two bras that you use equally often you'll wear each one 188 times a year, or 365 times over two years! It's not surprising if it wears out quickly. Not even an expensive high-quality bra can endure any treatment whatsoever. A garment that fits as close to the body as a bra does is subject to both heat and friction. The material is elastic and stretches as it fits tightly to provide support and lift. If you let the garment relax between uses, the textile fibres have a chance to recover so they stay elastic and last longer. That's why you shouldn't wear the same garment two days in a row. The more bras you have to switch between the better.
How many bras do you really need? One, two, three, twenty?
Variation is good for the body
It's not just your bra that needs rest. Your skin and body need it too. Even though a well-fitting bra in the right size should not leave marks, it can sometimes be hard to avoid if you are particularly curvy or have a very large bust. By having several different bra models, for example with shoulder straps set at different widths on the shoulders, you can vary the position of the pressure points.
A well-fitting bra is one you don't want to take off when you get home. Underwear should be comfortable and feel right.
Different bras provide different types of support
There are different bras for different needs, and to get the most out of your wardrobe it's important to adapt them to your lifestyle.
Irrespective of whether you have a large or small bust you may sometimes need extra lift. If you have a very relaxed bust it can easily become warm and uncomfortable from the skin-to-skin contact. To avoid this, we recommend always having an underwired bra because it lifts and supports the bust in a way that provides individual support to each breast by separating them rather than pressing them together into one.
Invest in different bra models in your wardrobe; they provide different support and allow the body to recover. Shown here are the non-wired LOVELY LACE and ROSE with an underwire.
You also shouldn't use a dainty soft bra that doesn't offer enough support if you are going to be very active, especially if you have a large bust. If you work out, it's worth investing in a proper sports bra. Sports bras offer different bounce control (strength), so choose one that suits your requirements. If you do yoga or power walk you won't need a sports bra that is designed for super-intensive training during which you're jumping up and down. Choose one that suits your level of activity.
The perfect bra for a special occasion? SHIMMER FROST or DREAMSCAPE?
Build up a good bra wardrobe with these simple garments
• Think smart with colour. Choose at least one or two bras that match your skin tone, for example beige or brown, if you don't want your bra to be visible through your clothes. If you like colour, red is a good option because it's less visible through thin clothing, as is pink.
• One or two comfortable bras that are ideal for weekends. Cotton is durable and perfect for an everyday bra.
• One or two underwired bras that give excellent support and lift.
• A moulded T-shirt bra that is very discreet under thin clothes.
• A sports bra for activities.
• A beautiful bra for times when you want to be more dressed up, for example if you're going to a party or wedding.
• A multiway bra with adaptable shoulder straps. That way you'll get more use out of the bra if you don't always want the shoulder straps to show when you're wearing a top with a wrestler cut or you need to change where the pressure points are on your shoulders.
If you find a bra you love, buy it in several colours. Shown here is KEEP FRESH without an underwire.
When you've found your favourite
When you've found a favourite model that you always want to wear, it's preferable to buy 2-3 of it rather than buying different models that you then don't want to wear. If you have a strong preference for wearing an underwired bra choose an underwire on all your bras. This also applies if you don't like to use an underwire, then choose a non-wired bra, but make sure you get one that offers excellent support, especially if you have a large bust. Invest in a sturdy model with a wide back and stiff material or extra reinforcement in the cups.
Underwear should always be comfortable and you should dress yourself according to what feels right for you. Of course, you shouldn't just hoard bras for the sake of it and let them lay unused and unloved in your underwear drawer, but you definitely need more than two bras if you want them to last longer. A good number to start with is usually 4-6, so why not invest in 5?