Help! My bra feels too warm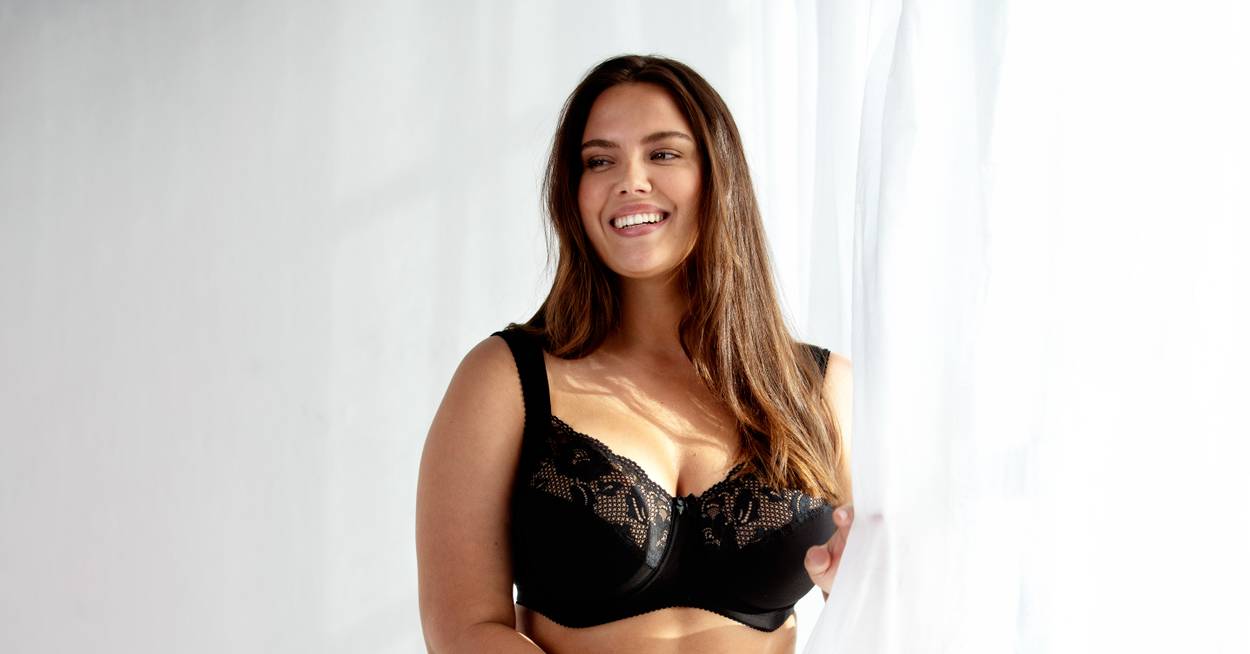 Bras can sometimes feel warm for various reasons, perhaps because of the time of year, the menopause, medication or some other cause. Whatever the reason, there's a solution. Here's what you should look for in a bra or underwear so they don't make you feel even warmer.
One of the most important qualities to look for in a garment, if you don't want it to feel warm, is that it's made from a breathable material. When a material is described as breathable it simply means that it doesn't trap body heat. Most natural materials are breathable, such as cotton, wool and silk. Of these, cotton is the most suitable for making bras thanks to its other characteristics. It's both hardwearing and easy to look after, and cotton fibres are even stronger when they're wet than dry, which means it can handle being washed over and over again. It's also hard to beat the feeling of cotton directly against the skin. It feels cool during warm seasons and warm on cold days.
"It's hard to beat the feeling of soft cotton directly against the skin"
BRODERIE ANGLAISE has the highest cotton content of all our bras, a whole 83%. The cups are 100% unlined cotton.
In order to get the full benefit of cotton's qualities it shouldn't be padded or lined with a synthetic material that isn't breathable. That will make it even warmer! If you wear a cotton bra with cups that are padded or lined in a non-breathable material, it will feel warm because the innermost material doesn't allow the body's heat and moisture to pass through it.
STAR non-wired bra is lined with a fine cotton to allow the cups to breathe.
We offer a wide range of cotton underwear. Most of the bras have unlined and unpadded cups. Some models, for example the STAR bra, have linings, in which case we have made them from cotton. If you read the composition label, it may state that the bra is made of 69% cotton. This number accounts for all the parts of the bra, which includes the foam padding in the comfort shoulder straps and the back pieces, which contain elastane to maintain their elasticity. A bra is very rarely made of 100% cotton; however, we usually try to make the cups in 100% cotton as it is the bust itself where you become warmest.
When is cotton not suitable?
In the summer, an unlined cotton bra is really comfortable to wear, but if you sweat a lot, as may be the case for various reasons during certain times, cotton becomes damp from absorbing moisture. That's why there is a functional synthetic material with fantastic qualities developed specifically to ensure that your garment doesn't feel like a sauna. Sometimes the words 'synthetic fibres' have a bad ring to them, but the truth is that many synthetic fibres offer incredible functionality that is missing from natural ones. There are big differences between synthetic fibres. At Miss Mary, we only use the highest quality materials from the best suppliers on the market. You can find some of these wonderful functional materials, and the garments in our range that incorporate them, below.
Spacer material
If you enjoy the shape, security and support you get from padded cups but don't use them when it gets too warm, a bra with Spacer cups is the perfect solution.
CONFIDENT with Spacer cups is one of our best-selling T-shirt bras.
Spacer is a three-dimensional, 2.5mm deep material with air channels woven into it that allow air to circulate. This makes the padding much lighter, more airy and flexible than other types of padding. Spacer wicks moisture from the body without the material itself becoming damp! It simply gives you all advantages in one – shape, cooling and support. The CONFIDENT underwired bra with Spacer cups is one of our best-selling T-shirt bras.
"Spacer offers all advantages in one – shape, cooling and support"
Keep Fresh
Keep Fresh is an elastic functional material that feels very soft and comfortable against the body. You almost need to feel it to truly understand why it's become so incredibly popular. The material not only wicks moisture and allows the skin to breath but is also dirt and odour resistant. To preserve these qualities, we have chosen to keep the cups unpadded and unlined.
Our best-selling underwired bra is STAY FRESH, which has Keep Fresh cups.
One of the absolute best-sellers in our collection is the STAY FRESH T-shirt bra, with cups in Keep Fresh material. If you prefer a non-wired bra, we offer the wonderful KEEP FRESH comfort bra, which we named after this fantastic material.
"You almost need to feel it to truly understand why it's become so incredibly popular"
A reliable old favourite, the KEEP FRESH bra was the first bra made in this material.
WinCool
WinCool is a patented, exclusive functional material with minerals woven into the fibres. These minerals lower the temperature of the skin by 1-2°C! As it's mixed in with the textile fibres and not an after treatment, the effect lasts over time and doesn't disappear in the wash. WinCool is even moisture wicking. Our popular COOL SENSATION series, which includes panties and a camisole, is made from this unique material. Incredibly comfortable to wear directly against the skin under your other garments.
COOL SENSATION lowers the temperature of the skin by 1-2°C.
Miss Mary offers many different types of garments to meet the high expectations and demands that today's women have of their underwear. If you are unsure which model will suit you specifically or which size to choose, you are welcome to contact our customer service and we will gladly guide you through our collection and help you meet your personal needs.